Our Philosophy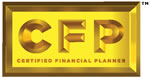 Our philosophy of financial planning is:
to gather adequate, reliable information about a client's personal financial situation;
to determine the client's goals and objectives, time horizon, and risk tolerance;
to analyze all of the foregoing information in an objective manner and to develop recommendations for our clients in the interest of rendering informed advice.

In a personal financial planning partnership, we endeavor to consistently act on behalf of our client and to place his or her interest ahead of our own.

We want you to be educated about your own financial affairs and to take an active role in managing them.





It is our goal to become your primary financial adviser and to coordinate the efforts of your other advisers in your best interests.